25-11-2019/08:36 PM (This post was last modified: 01-12-2019/07:28 PM by n8. Edited 9 times in total.)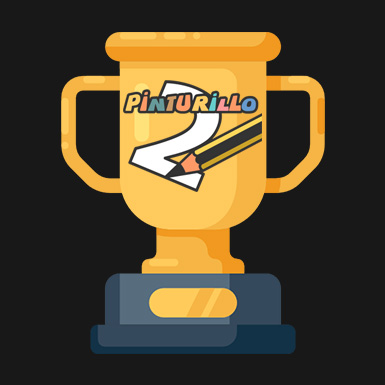 One trophy, one winner!
Show us your artistic side and compete in our Invex
Pinturillo 2
 championships.
Invex is home to various veteran Pinturillo 2 players so expect the competition to be fierce.
The event will run for 
1-2 hours
. Others are free to stay for as long as they like after the event concludes.
Post-event:
After the event concludes a room will be hosted at 
andchill.tv
 for those that would like to stick around and watch various community provided Youtube/Twitch clips together.
---
---
No account is needed to play Pinturillo 2, simply show up and play.

Feel free to prepare beforehand and learn how to join a private lobby on the website (you will be joining a fair few during the event).

No other preparation is needed.

---
Follow all regular Invex rules.

You must use your forum username and your forum username only during the event. If you wish to use another name, you must get it pre-approved.

Do not harass anybody.

Do not impersonate anybody.

You may invite other people to join during the night for this event. No prior registration is required, just show up!


There is to be absolutely no racist or extremely offensives names from anybody for the duration of the event. Breaking this rule will give you an instant 1 month ban from the forums, Discord and servers with absolutely no exceptions or any warnings.



---
Spots available:
64 players maximum
Ensure you can
100%
play on the night for at least
1
 hour
.
Please read our message about not showing up to events
here
.
Once you are sure you will be able to make it, apply using this Google Form.
Priority will be given to Veterans, Senior Members, and Invex Members.
Entries will close on: 
Saturday 11:59 PM AEDT
Sign Up Form:
Click Here
Responses:
Click Here
If you have concerns, please private message
Byte
See you there!
---
All games will use the
English
 library of words.
The initial lobbies will be based on the randomly generated brackets.
The initial lobbies will have
8 players
 each.
In each round, the top 
half
the number of total players in the lobby will proceed to the next round.
The bottom
half
will be eliminated. If you are eliminated early, feel free to play games with other eliminated players.
A screenshot must be provided from all players who finish in the top half to prove they won.
The final game of the competition will include the top 4 players (
1v1v1v1
) seeded based on previous round points.
Discord voice channels will be setup for each lobby so players can talk to each other during the game.
An additional public voice channel will also be available for general voice comms.
Writing out words is not allowed.
Not participating/drawing or drawing things incorrectly on purpose is not allowed.
Sending words to other people in any way is not allowed (play fairly).
Giving hints to any other player is not allowed.
Using the 'expulsar' feature is not allowed and will result in an instant disqualification.
If you leave an active game by mistake you risk being disqualified.
---
Players in each game are randomly generated before each round using:
Top

4

in each game progress to next round
Game 1:
Game 2:
Game 3:
Game 4:
Top

4

in each game progress to next round
Game 1:
Game 2:
Game 1:
---
The following award is given to all participants:
Community Event Participant

---
Random Participant Prize
TBA
TBA
Note:
Staff Members are not eligible to win.
---
TBA
Random Participant Prize
TBA
Thanks to everyone who also joined the andchill lobby and provided links for videos!